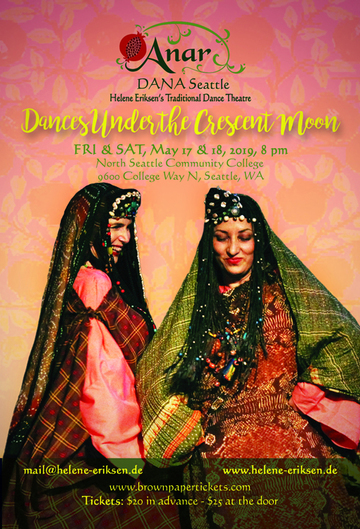 Greetings from Buenos Aires!
Have you seen the new website?!  It is still a work in progress but now you can see up to date information and we will be developing new exciting projects...stay tuned. Check it out at www.helene-eriksen.de!!! 
I was in Istanbul and Seattle for ANAR DANA's last Cultural and preperation for the upcoming shows in May. Now I'm  in
Buenos Aires
for April where I am working hard on tango and preparing classes for August here.  I will be offering a
Tango Tour
to Argentina next year during the holiday season.  I would love to share my experience of the tango world with you here. Let me know if you would be interested and wether the Christmas/New Year's holidays would be good or if April would be better. But if you come individually I am also always happy to offer my services to make your visit to the tango Mecca of the world more enjoyable.
ANAR DANA Seattle
 will be having their final recitals
on May 17th and 18th at North Seattle Community College. We are excited to share the results of our hard work from
the 
last year and a half in these recitals.  You can get tickets at: Brown Paper Tickets  Please, even if you can't come, or live somewhere else in the world but would like to support the work of ANAR DANA, you can buy a ticket online as an easy way to sponsor our work.
We had a lovely first 
ANAR DANA Germany
project
weekend in Göttingen in March.  We still have room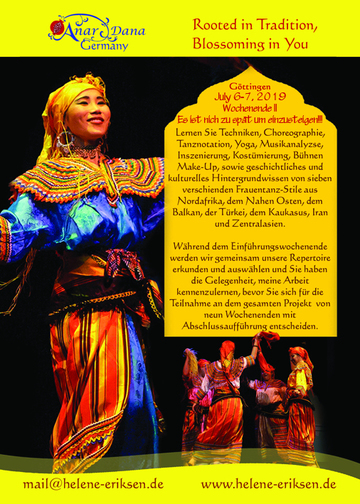 to welcom
e more dancers from all over Germany and Europe to my charming "home town" for the next weekend of the project July 6-7th.  Göttingen is centrally located, easily reachable by train or by plane to nearby Hannover. Come join us!!!
The 
next 
Dance and Cultural Tour to Uzbekistan
  is planned for March 
18-29, 2020.  
We will visit Tashkent
, Bokhara, Samarkand and th
e 
Surxondaryo region.
  Celebrate Noruz, lea
rn and perform

traditional dance and music, eat amazing food and
revel in t
he artistic magnificence of the country!
Please save the date!
You can read about our 2016 trip here:
And join the FB group for photos & videos of the last tours:
Support ANAR DANA by buying our DVDs with a SPECIAL SALE: Get all 4 ANAR DANA SF 2013, Seattl
e 
2013, 2012 and 2011 for $100 including shipping within the US (or add $10 outside the US) until the end of May.  Regular price is $40 per DVD plus shipping.  It is a really good way to support the work of ANAR DANA and see the dances you might have missed live. You can order them by contacting me at: 
Order now. DVDs will be shipped in May.
You can follow ANAR DANA groups on Facebook: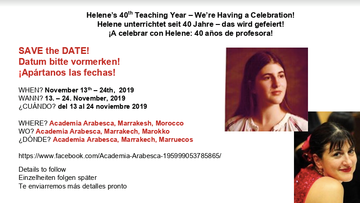 We are having a very special celbration this year.  I have
my 40th teaching anniversay
and we are inviting any ANAR DANA Alumnae (even dancers from before the training programs were called ANAR DANA) to come on a
special ANAR DANA retreat to Marrakech
in November this year.  I have been collecting ex members in the ANAR DANA Alumnae facebook group...but we have not been able to find everyone...especially from the early years of the German training programs.  Please ladies, help us to find people who danced with you and help us get in touch with them.  Please keep posted on the members' only FB page.
Please check my Facebook Dance Fan Page for the mo
st recent updates to my schedule. To find out more about the individual dance styles listed below, please visit the "Workshop Catalog" on my website.
Wishing you peace, happiness and lots of dancing!
Let us be the peace that we seek in the

world! 
mail@helene-eriksen.de  www.helene-eriksen.de