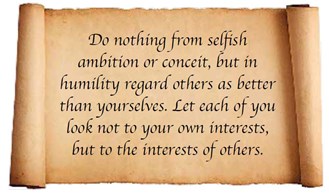 Talk together
What do you think Paul meant by these words?

Can you think of examples of people putting the interests of others first?

How easy is it to 'regard others as better'?
Do, Make, Pray based on Philippians 2.1-13
Choose from these ideas to help the children make connections between the Bible reading and their lives
What would I do?
Think about when we put others first
You will need: a 'Yes' sign and a 'No' sign, sticky tac, string, statements (see Scenarios below).
Share with the children the quote: 'Humility is not thinking less of yourself, it's thinking of yourself less', which is attributed to CS Lewis. Then talk together about what this might mean.

Place the 'Yes' sign at one end of the room and the 'No' sign at the other, with a line of string between the two. Ask the children to stand in the centre of the room, listen to the statements you read out, and then stand by 'Yes' or 'No' or somewhere in between.

After each question, ask the children why they chose to stand where they did.
Scenarios
Your family are sharing cake and one piece is smaller. Would you take the smaller piece?
It's your turn to watch TV, but your sister really wants to watch her favourite programme. Do you let her?
You have bought sweets with your pocket money and have 10p change. Your friend needs 5p more for their sweets. Do you give them 5p?
Your friend has come to play. You really want to play football, but they want to stay indoors. Do you play football?
You could create some additional questions.
Make
Challenge chart
Make a reminder to think about others during the week
You will need: large sheets of coloured paper, pens, craft items, glue.
Help the children to draw round their hand six times onto a large sheet of coloured paper. Across the top write 'Colour in a hand every time I think of others first'.

Provide craft items for them to decorate their chart. Encourage everyone to take their chart home to use during the week.
Pray
Graffiti prayer wall
Focus on the interests of others
You will need: a large sheet of paper, coloured pens.
Encourage the children to think about current situations where they are concerned about the interests of others. These might be world issues, local concerns or things relating to people they know.

On a large sheet of paper, ask the children to write and draw words and images from these stories as they take them to God in prayer.

Place the graffiti prayer wall in the centre of the group and pray: May we always remember the needs and interests of others. Amen.