Children's session
Share the Word
Read the story and pause at the

to share these points with the children. Then use the activity to explore the passage together.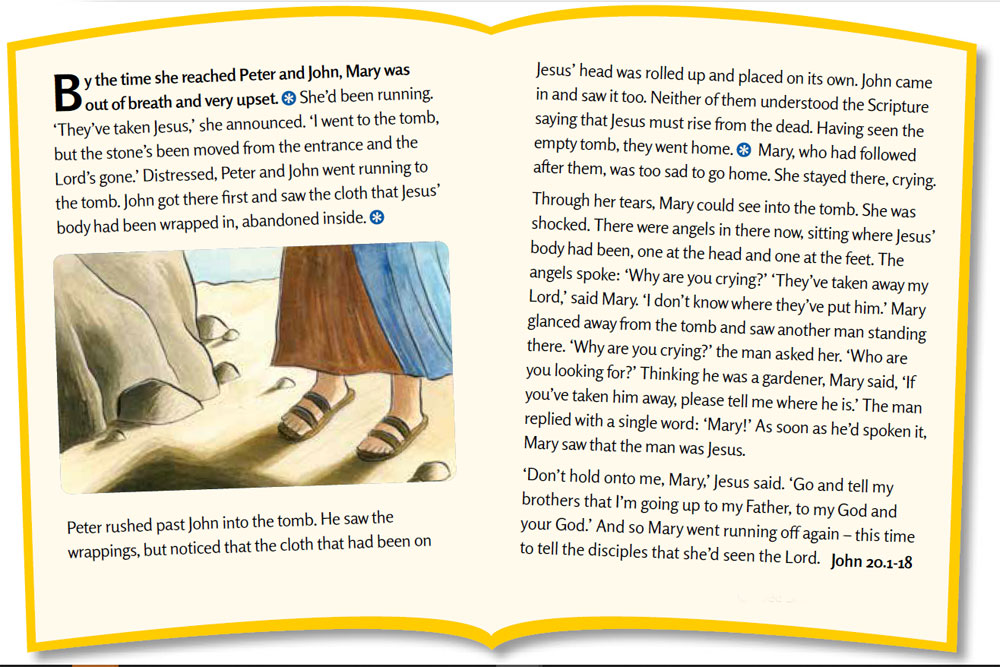 Stop and share
Ensure everybody knows who Mary, Peter and John were.

Ask the children what sort of things had happened before this story.

Explain that Peter and John may have thought someone had taken Jesus' body away.
Act it out
You will need: a rock or stone, a large piece of cloth or scarf and a torch.
Ask the children to stand in a circle facing inwards.

Retell the story using the items and and actions (in italics) as you tell the story.
By the time she reached Peter and John, Mary was out of breath and very upset. She'd been running. (everyone run on the spot) 'They've taken Jesus,' she announced. 'I went to the tomb, but the stone's been moved from the entrance and the Lord's gone.' (pass around the rock for everyone to feel) Distressed, Peter and John went running to the tomb. (everyone run on the spot) John got there first and saw the cloth that Jesus' body had been wrapped in, abandoned inside. (stretch out the cloth and ask the children to drop it in the middle of the circle)
Peter rushed past John into the tomb. He saw the wrappings, but noticed that the cloth, that had been on Jesus' head was rolled up and placed on its own. (ask the children to roll the cloth up). John came in and saw it too. Neither of them understood the Scripture saying Jesus must rise from the dead. Having seen the empty tomb, they went home. Mary who'd followed after them was too sad to go home. She stayed there crying. (everyone put their hands over their eyes)
Through her tears, Mary could see into the tomb. (everyone uncover their eyes) She was shocked. There were angels in there now, sitting where Jesus' body had been, one at the head and one at the feet. (turn on the torch and shine it around) The angels spoke: 'Why are you crying?' 'They've taken away my Lord,' said Mary. 'I don't know where they've put him.' Mary glanced away from the tomb and saw another man standing there. 'Why are you crying?' the man asked her. (everyone put their arms out) 'Who are you looking for?' (everyone make their hands into 'binoculars' and look around) Thinking he was a gardener, Mary said, 'If you've taken him away, please tell me where he is.' The man replied with a single word. 'Mary!' As soon as he'd spoken it, Mary saw that the man was Jesus. (everyone join hands, put them in the air and shout hooray)
'Don't hold onto me, Mary,' Jesus said. (release hands) 'Go and tell my brothers that I'm going up to my Father, to my God and your God.' And so Mary went running off again. This time to tell the disciples that she'd seen the Lord. (everyone run around the space and tell each other 'Jesus is alive!')
Hide and seek
Imagine how it would have felt to find the risen Jesus
You will need: pictures of risen Jesus (template), coloured crayons/pencils.
Hide pictures of Jesus around the room. Ask each person to find one and then colour in their picture.

As they do this, read the final paragraph of the story. Ask: How did it feel when you found your picture of the risen Jesus? Discuss how those who had heard the news that Jesus was risen would have felt.
Greek Easter biscuits
Make and eat something new and surprising
You will need: ingredients; (225g butter, 150g caster sugar, vanilla extract, almond extract, 275g plain flour, 2 eggs); mixing bowl, wooden spoon, pastry brush, baking tray, an oven.
Make some koulourakia biscuits. Preheat the oven to 2000C and prepare your baking tray.

Mix together the butter, sugar and one egg, and then add the vanilla and almond extracts. Blend in the flour to form the dough.

Take a teaspoon of dough at a time and form into 's' shapes. Place on the baking tray and brush with beaten egg. Bake for 10 minutes until lightly brown and firm.

These biscuits might be different from what we usually eat at Easter. Ask: Do you like this new experience? What do you find different and surprising about the Easter story?
Talk together
Talk about a time when you have felt you weren't sure what was going on. What did that feel like?

Why do you think Jesus appeared to Mary?

How would you describe the importance of the Easter story to someone?
Rock painting
You will need: a selection of flat rocks, paint or pens (e.g. Sharpies), spray varnish (optional).
Ask the children to paint or write the words 'Jesus is alive', or paint an Easter picture, on the rocks. Help them to finish their rocks with spray varnish (if using).

Build the rocks into a cairn and pray:
Thank you, Jesus, that you didn't just die,
but that the stone was removed from the tomb
so we can see that Jesus is alive.
Amen.

Feel free to bring your painted rocks to St. Mary's and add it to the snake of stones in the church grounds.
A sending out prayer for children
As Mary Magdalene went
and told the disciples she had seen Jesus,
give us confidence, God,
to tell our friends the good news of Easter.
Amen.