Prepare
What is it about Jesus' words and actions that show authority? Take time to ask yourself what actions you need to see to give authority to someone's words and how you recognise authority.
The children in your group may know of people who carry authority and are unlikely, e.g. Greta Thunberg, or people who are given authority but don't appear to use it wisely. Encourage them to think about whose voices we listen to and how knowing Jesus makes a difference to that.
Gather
Use the prayer and activity to gather the group and introduce the theme.
Play 'Follow the leader'
Choose one of the children to be the leader. Ask the leader to walk round the room doing different actions. Encourage everyone else to follow behind and do as the leader does.

Try this with different leaders. Afterwards discuss that the Bible passage today shows that having authority is not just about following the leader.
A prayer of praise and thanksgiving for children
When Jesus spoke, people knew
everything he said was true.
They were amazed, and all said 'Wow!
This is different teaching now.'
So, thank you, God, for Jesus' deeds
that give us hope and meet our needs.
Amen.
Share the Word
Read the story and pause at the

to share these points with the children (see Stop and share below). Then use the activity to explore the passage together.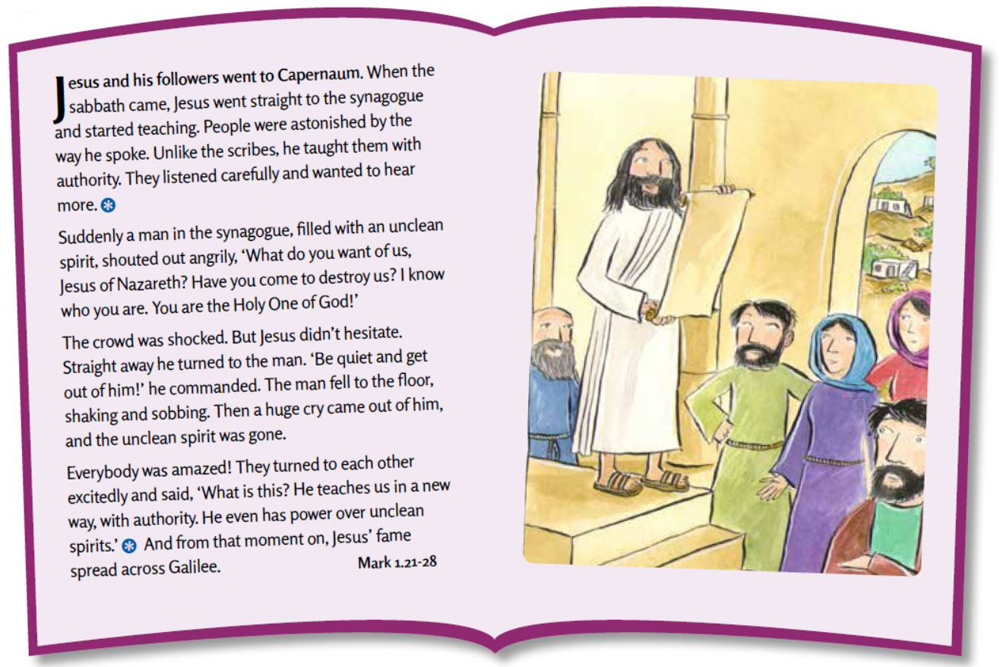 Stop and share
How does the picture show Jesus' authority?

Someone with an 'unclean spirit' might be interpreted as someone who is disturbed, distressed or suffering from mental illness.
Draw emojis
You will need: a large sheet of paper, pens.
Divide a large sheet of paper into six sections. Ask the group to design an emoji for each emotion or way of behaving in the story: astonished, angry, shocked, commanded, amazed and excited.

Encourage the children to draw one emoji onto each section of the large sheet. Read the story through, pointing to each emoji at the appropriate word and encouraging the children to make that face.
Explore and respond
Use these ideas to help the children make connections between the Bible passage and their lives
Authority quiz
Identify people we may think have authority
You will need: pictures of people in authority, pens, paper.
Collect together pictures of people who might have authority, e.g. the prime minister, presidents, royalty, teachers, vicars, police/fire officers. Display these around the room.

Give the children pens and paper and ask them to identify as many as they can. Ask how many of these people they think have authority and why – do they have authority in all situations or just one?
Make a scroll
Emphasise the new authority Jesus spoke with
You will need: brown paper, two cardboard tubes per child, glue, scissors, pens/pencils, ribbon.
Explain that in Jesus' time scrolls would often be used to read from, and this showed authority.

Give each child a long piece of brown paper and two cardboard tubes. Help everyone to lay their paper out flat and cut it so it is the same width as the tubes. Ask them to cover the tubes in glue, place one on one short end of the paper and roll the paper round until it completely covers the tube. Then do the same on the opposite end.

Encourage the children to write 'A new authority' on the paper and decorate it. When the glue is dry roll each side towards the centre to make a scroll, and tie with a ribbon.
Talk together and talk to God
Use these questions to discuss the Bible passage and then bring your thoughts together by praying to God.
Talk together
Use these questions to discuss the Bible passage and then bring your thoughts together in prayer using the activity below.
Who are the people that you and your friends listen to today who have authority?

What makes Jesus so different from the scribes and other teachers?

How could you make sure your words and actions match up?
Talk to God: Play dough prayers
Reflect about the impression those in authority leave
You will need: play dough.
Provide everyone with a piece of play dough and then pray: Dear God, we pray for all those in positions of authority; that their actions and words will leave a good impression.

Ask the children to flatten out their piece of play dough and mark it with a tick.

Continue praying: Jesus' words and actions were good. He spoke with a new authority and he left a lasting impression.

Ask the children to remould their play dough, flatten it out and mark it with the sign of the cross. Finish by praying:
May we follow the example of Jesus
in our words and our actions.
Amen.
Go with God
Consider together what you have explored, what that means for each of you and how it might influence your daily lives
Ask the children to make: a sad face and say, 'I am happy'; a worried face and say, 'I'm OK'; a puzzled face and say, 'I understand'.

Talk about how it is important that our words and our actions match up. How can we make sure our words and actions match up?

Invite the children to make/draw a face that they want to match with their actions this week, e.g. being kind.
A sending out prayer for children
Jump up and down because Jesus is special!
Lift up your hands because Jesus is Lord!
Go in his name and live as his friends,
be kind in your deeds and true to your word.
Amen.