Read the story and pause at the

to share these points with the children (see Stop and share below). Then use the activity to explore the passage together. (10 mins)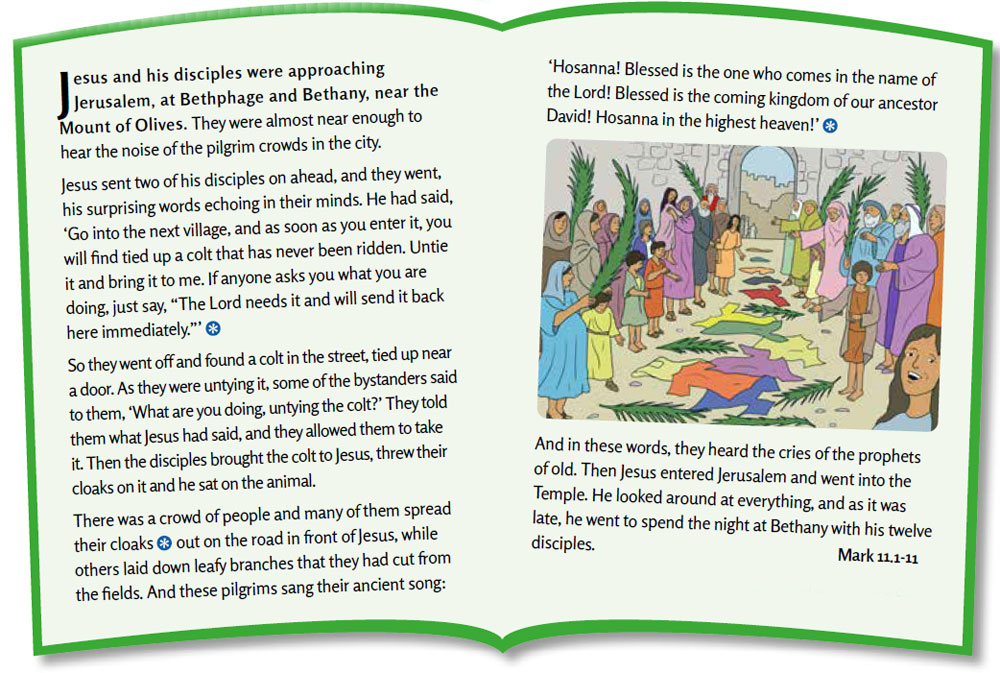 .
Stop and share
There are different reasons to give: sometimes people may ask us for things they need, but on other occasions we may choose to give spontaneously.

At the time of Jesus, a cloak would have had a much greater value than they have today, making this a bigger sacrifice than it sounds to us.

Explain that 'Hosanna' is a Hebrew word usually used to mean 'Praise', but it actually means 'Save us, please!'
Act it out
You will need: dressing-up clothes, bicycle/prop for a donkey.
Assign roles to the children (Jesus, disciples, crowd, etc.) and ask them to act out the story as you read it.

Use dressing-up clothes for the cloaks, and a bicycle for the donkey if you have space. Stop at the end of each paragraph and ask the characters what they are doing, and how they feel about the story as it is unfolding
Explore and respond
Use these ideas to help the children make connections between the Bible passage and their lives. (20 mins)
Pass the parcel
Consider how it feels to give something away
You will need: a 'pass the parcel' with sweets in every layer.
Play pass the parcel but each time the music stops, the 'winner' has to give away their prize to another member of the group.

Talk about how it feels to give up the prize that you have won.

Ensure that everyone has a prize at the end.
Rice crispy cakes
Make something to give away generously
You will need: plain cupcake cases, pens, ingredients (see below), microwave.
Give each child a cupcake case to decorate on the outside and ask them to think about a person in the church they can give a cake to as a gift.

Work together to make rice crispy cakes. Melt 100g of milk chocolate in the microwave and mix together with 90g rice crispies, 60g melted butter and 3 tablespoons of golden syrup. Then place a tablespoon of the mixture into each cupcake case.

Discuss what it is that makes a gift special. Is it great baking skills, brilliant artwork on the cupcake case or something else?
Talk together and talk to God
Use these questions to discuss the Bible passage and then bring your thoughts together by praying to God.
Talk together
Describe a time when you received a gift that made you feel really special.

What would be a modern-day example of throwing coats on the road for Jesus?

In what practical ways can we celebrate God through giving or sharing our possessions with him or others?
Talk to God: Circle prayer
Think about receiving gifts and how this makes us feel
Sit in a circle and ask everyone to think of a time when somebody has shared something precious with them.

Say a simple prayer: Thank you, God, for the time when (insert name) shared (insert example) with me.

Go round the circle, encouraging each child to add another item to the list. At the end of the prayer, all say 'Amen' together.