Explore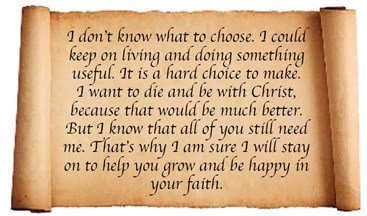 & respond with children
Open the Bible at Philippians 1.22-25
Paul helps us to think carefully about making the right choices and sticking with them when it's hard.
Paul's letter to the Philippians, Chapter 1, verses 22 to 25 (CEV)
How can we see that Paul is struggling to choose the right path?

Have you ever had to make a difficult decision?

How can we help the people we know to make the right choices?
Do, Make, Pray and Sing activities based on Philippians 1.21-30
Choose from these ideas to help the children make connections between the Bible reading and their lives
Do
Would you rather…?
Make some difficult decisions
Play a game of 'Would you rather…?' either as a group or in pairs.

Encourage the children to think of a mix of fun and serious options, e.g. 'Would you rather have one amazing

friend or lots of people you are quite friendly with?' and 'Would you rather eat cabbage for every meal for a week or eat raw fish once?'

If children have split into pairs, you could invite each pair to share their worst scenario with the group!

Ask if any of the children have ever had to make a real-life choice a bit like this.
Be my guide
Experience what it means to support each other
You will need: obstacles such as tables, chairs, hoops, cones, balls; blindfold.
Set up an obstacle course.

Ask a child to volunteer to go through the course blindfolded and choose another child to guide them through the obstacle course.

Talk about how much harder it would have been to complete the obstacle course without a helper.

Draw out the parallels between this activity and Paul's decision to stay with the Philippians to help them. What can we learn from this?
Rough with the smooth 
Consider how life has smooth and bumpy parts
You will need: different textures such as ridged cardboard, bubble wrap, sandpaper, smooth flooring, cloth, gravel.
Set up a sensory walk – if you have outside space, this can also involve messy components, e.g. soil and slime. If inside, use textures like cardboard, cloth and smooth flooring for children to walk on.

Invite the children to take off their shoes and socks and walk along the path, experiencing the different sensations of the surfaces they are walking over.

When everyone has finished, talk about the different sensations they felt along the path. Which were their best bits? Which were their worst? Discuss how, on the path of our lives, we have good, easy times as well as some bumpy, difficult times. Whatever stage we're going through, it's good to know that God and other people are walking with us.
Make
What should I do?
Think about how we make decisions
You will need: a piece of paper (cut into a square) for everyone in the group, pens.
Make paper

fortune tellers, step by step

, with the children.

Underneath the four flaps (eight numbers), write 'yes', 'no', 'pray' and 'ask someone' (write these across each large triangle, i.e. across two numbers, as you open up the fortune teller).

Explain, as you're making the fortune tellers, that they're just for fun. What do the children think we should really base our decisions on?

Let them come up with questions and have a go at using their fortune tellers to decide the answer.
Pray
Choose with God

Ask God to help us make the right decisions
You will need: scenarios written on slips of paper, a bowl/basket.
Write some typical scenarios that children face on small slips of paper then fold them up and place in a bowl/basket. Scenarios might include 'Tell the truth when I do something wrong' or 'Ask somebody who looks lonely if they want to play', etc.

Encourage each child to choose a slip of paper.

Lead a prayer: 'Dear God, help us make the right choices even when it's hard. Help us to…', then let each child in turn add their scenario to the prayer. All say Amen together.