Prepare
Read Bible notes on Mark 9.2-9
This mountain-top experience provides a glimpse of the glory of God but it is a passing experience. Have you had an unexpected or intense awareness of the glory of God? Was it difficult to leave the experience behind, while wanting to hold onto it, as everyday life continued?
We need to help the children we work with to develop a language and experience of faith that will help them recognise and value the things of God. How can we help them tune in to look for 'wow' moments of God in their lives?
Gather
Use the prayer and activity to gather the children and introduce the theme.
A prayer of praise and thanksgiving for children
On a mountain-top with Jesus
the disciples were in awe.
They just could not believe it –
what they heard and saw.
Help us, Lord, to see you today,
just as they did in that special way.
Amen.
Unwrap a parcel
You will need: a parcel wrapped in plain paper containing something surprising, e.g. heart-shaped confetti, a Valentine's card or a glow stick.
Invite the children to guess what may be inside the parcel. Then invite someone to open it.

Discuss whether the contents were a surprise or not.
Share the Word
Read the story and pause at the

to share these points with the children (see Stop and share below). Then use the activity to explore the passage together.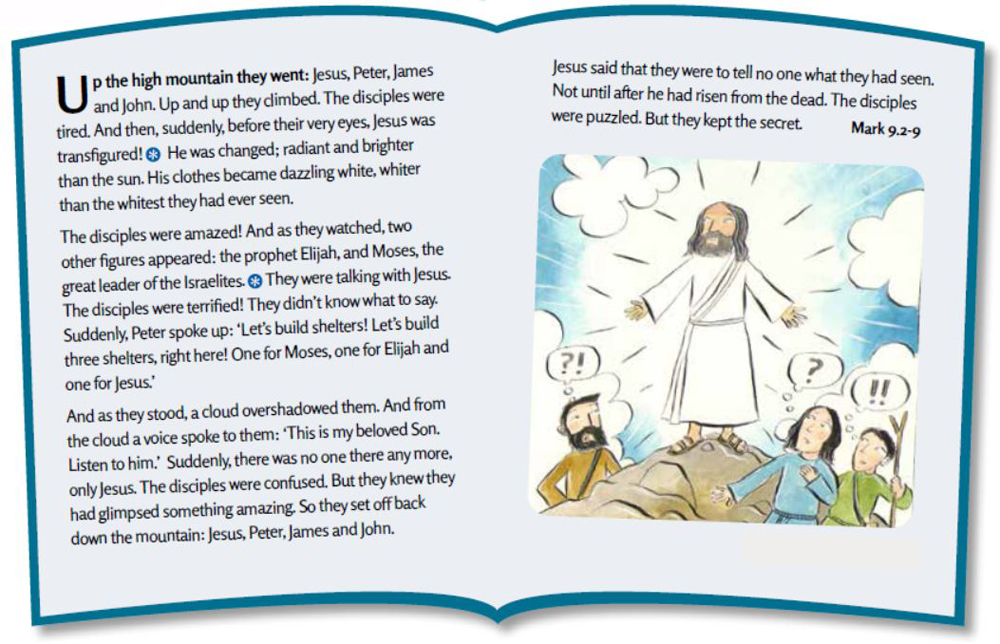 Stop and share
Explore with the group what they think the word 'transfigured' might mean and how Jesus might have looked.

The disciples knew that Moses had led the people of Israel out of slavery in Egypt, and that Elijah had been a great prophet who told people about the things of God.
Use facial expressions
Practise making faces for these emotions: tired, amazed, terrified, confused, puzzled.

Encourage everyone to make the appropriate face when the word is said as you read the story.
Explore and respond
Use these ideas to help the children make connections between the Bible passage and their lives.
Ice biscuits
Illustrate the story
You will need: plates, large plain biscuits, green icing, knives or spreaders, coloured sweets, white mints, squirting cream, wipes.
NB Be aware of any allergies/dietary needs in your group.
Offer each child a plate and a biscuit.

Invite them to spread icing across the biscuit and talk about it representing the mountain.

Ask the children to add three coloured sweets to represent Peter, James and John, then two more for Moses and Elijah, and last a white mint to represent Jesus.

Finally add a squirt of cream to represent the cloud.

Discuss which was the most important part of the story and consider if the biscuits show this well.
Talk together and talk to God
Use these questions to discuss the Bible passage and then bring your thoughts together by praying to God.
Talk together
Talk about a time when you saw something unexpected.

How would you have felt if you had been on the mountain with the disciples that day?

How can we remember this story over the next few days?
Talk to God: Pray with Jenga™ bricks
Build a mountain of prayer
You will need: Jenga™ bricks.
Ask the children to think of a person they want to pray for.

Invite them to take turns to lay a brick to build a 'mountain' as each person makes their prayer. Then think of a situation which needs God's transforming love. Again, take turns to add their brick of prayer to the mountain.

Repeat with a prayer to say thank you for something.

Remind the children that the disciples still had to go back down the mountain. Have fun gradually withdrawing the bricks until the 'mountain' collapses. Spend a few moments asking God to help us in the coming week, then invite everyone to say 'Amen'.
Go with God
Consider together what you have explored, what that means for each of you and how it might influence your daily lives.
Invite everyone to imagine you are standing on top of the mountain and you have just seen Jesus' appearance transformed into something dazzling and glorious.

Act out that 'wow' moment. Now ask the children what difference this story has made to them. How will it change things this week? What do you need to do when you go back down the mountain? Act out going down the mountain.
A prayer for others (for children)
As we go back down the mountain, God,
we bring to you those who need a 'wow' moment in their life:
those who have lost hope,
those who have little money,
those who live in places of violence,
those who don't feel loved.
Surprise and bless them, in Jesus' name.
Amen.
Go with God 24/7
Encourage the children to put their faith into action
Think about how amazing Jesus looked to the disciples. Remember to look for 'wow' moments this week.