Prepare
Read Bible notes on John 1.43-51.
Some of us will be like Philip, keen to follow straight away, and some of us will wonder, like Nathanael, 'why would God be interested in me?'. This story shows that wherever we are, Jesus finds us and knows us. Are you more like Philip or Nathanael, or somewhere in between?
This passage and this session are about helping each other hear from God. So, as you explore with the children how they can help others hear from God also think about what helps you hear from God.
Share the Word
Read the story and pause at the

to share these points with the children (see Stop and share below). Then use the activity to explore the passage together.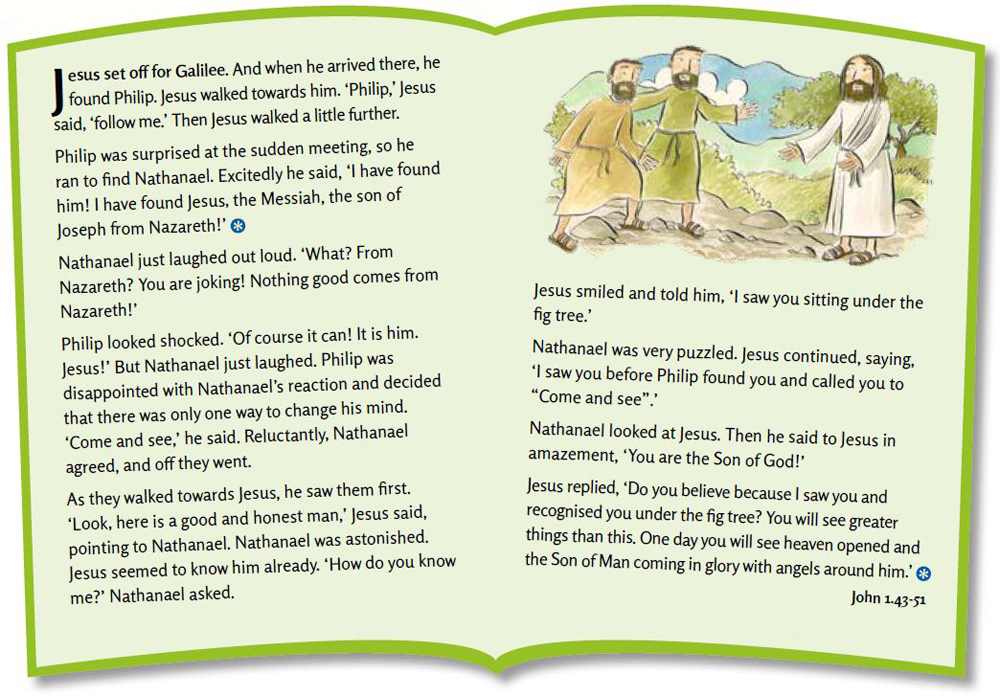 Stop and share
Nazareth is Jesus' hometown in Galilee.

Discuss the various titles used in this passage: Messiah, Son of God, Son of Man, and explain they are all about Jesus.
Explore and respond
Make a prayer journal - A creative way to hear from God
You will need: paper, pens, a bowl, coloured card, a stapler, stickers, craft materials, glue.
Talk with the children about using a prayer journal or diary to write or draw the things we see, hear or notice from God.

Place the names of everyone in the group and the leaders in a bowl. Ask each person to pick out a name to determine who they will make their journal for.

Provide everyone with sheets of paper and show them how to fix card to the front and back, using a stapler, to make a booklet. Write the name of the person they have picked and 'Prayer Journal' on the front. Encourage them to personalise the prayer journal using pens, stickers and craft materials.
Talk together and talk to God
Talk Together
Use these questions to discuss the Bible passage and then bring your thoughts together by praying to God.
If something exciting happened who would you tell?

Why do you think Philip told Nathanael about Jesus before he followed Jesus?

What sort of things would you tell someone about Jesus?
Talk to God: Finger labyrinth
You will need: copies of the finger labyrinth (

template

), pens.
Provide everyone with a labyrinth template and ask them to colour theirs in.

Show the children how to move their finger slowly around the path to the centre and then out again. Ask them all to find a space in the room where they can sit quietly with their labyrinth.
Go with God
Consider together what you have explored, what that means for each of you and how it might influence your daily lives.
Place the following in the centre of your group: a Bible, a symbol of your church (e.g. a cross), a natural object, a picture of children campaigning, a picture of lots of people. Then say: We all hear God in different ways. It might be in the words of the Bible, images in church, in things we see outside, in a protest or in other people.

Ask the children to stand by the symbol of how they think they best hear God. Pause for a moment, then ask them to go and stand by the symbol of how they might help someone else hear God.
A prayer for forgiveness for children
Lord Jesus,
we are sorry when we do and say things
that turn others away from you instead of drawing them closer.
Help us to be like Philip and help our friends to hear you.
Amen.
Go with God 24/7
Encourage the children to put their faith into action
This week think about the different ways you hear from God and listen out for him!