Welcome to the Coxswain's Grot - Issue 111.
Fellow Submariners, welcome to our next Edition. Always informative and with three sites to choose from, should cover everything.

ALL ROUND LOOK

NOTE: There has been a change in the guard within the Institute and John Polglase has taken the reigns as Secretary and Frank Owen is still providing detail for now.


Submarine News

Potential foes won't wait for Australia's nuclear submarines
The Australian - 6 December 2021
The AUKUS submarine deal, to provide Australia with British or American nuclear-powered subs, is the biggest decision any Australian government has made in decades. It ends generations of strategic caution and signals Australias readiness for a bigger ...
The AUKUS submarine deal, to provide Australia with British or American nuclear-powered subs, is the biggest decision any Australian government has made in decades. It ends generations of strategic caution and signals Australias readiness for a bigger ...

Brace for war in our time
The Australian - 4 December 2021
It is often said that there are only two certainties in life death and taxes. But war and conflict must surely qualify as a third. Australians must face the fact that China is determined to invade Taiwan — and in a China-dominated region we won't enjoy ...
It is often said that there are only two certainties in life death and taxes. But war and conflict must surely qualify as a third. Australians must face the fact that China is determined to invade Taiwan — and in a China-dominated region we won't enjoy .

Here's Why Japan Is Investing in New Submarines
The Conservative Investor Daily - 3 December 2021
Here's What You Need to Remember: The Japanese Maritime Self Defense Force (JMSDF) is planning to increase its submarine fleet to twenty- ...
to increase its submarine fleet to twenty-two operational diesel and AIP-powered submarines, plus one testing and two training submarines.

Brazil progresses nuclear submarine project
Shephard - 3 December 2021
French shipbuilder Naval Group is providing technical assistance across all aspects of the future SSN except for the nuclear reactor.
basic design for the future SSN. The nominal timeline could see the country field a nuclear-powered submarine before Australia commissions

The local economic fallout of the cancelled French submarine contract
ABC News - 2 December 2021
Australia's new pact to deliver a fleet of nuclear submarines was touted as an historic security deal with the US and UK but the delivery ...
Australia's new pact to deliver a fleet of nuclear submarines was touted as an historic security deal with the US and UK but the delivery

Navy's newest officers will serve on nuclear-powered subs
WAtoday.com.au (Licensed by Copyright Agency) - 2 December 2021
The Australian Navy's newest officers enter the service at a time of its greatest growth since World War II and at ...
.Credit:Louise Kennerley Mr Noonan said the conventionally armed, nuclear-powered submarines, the Hunter Class frigates and the Arafura

Government needs a back up submarine plan
The Canberra Times (Licensed by Copyright Agency) - 1 December 2021
The government needs to have a Collins replacement back-up plan in case the nuclear deal falls through. Picture: ...
up plan in case the nuclear deal falls through. Picture: Defence Re "AUKUS information sharing deal on nuclear submarines leaves scenario of

Australia urged to lease US nuclear submarines to bridge capability gap
ABC News - 30 November 2021
The federal government torpedoed a French deal to chart a new course involving nuclear-powered submarines.(Royal Australian Navy: Able ...
him of another chapter in the long, drawn-out history of the future submarine project. "The last time we saw that language, the government

Weighing up the options — Astute or Virginia Class?
Defence Connect - 30 November 2021
Which nuclear-powered submarine capability would be best suited for the Royal Australian Navy?
the US' Virginia Class submarines proposed as options. The Commonwealth government has established a Nuclear-Powered Submarine Task Force,

Australia's public service challenge
Open Forum - 29 November 2021
The announcement of the AUKUS partnership and that Australia will be acquiring nuclear-powered submarines was presented as a "fait accompli ...
a nuclear-powered submarine fleet as it tackles exiting challenges such as COVID-19 and climate change. Indeed, nuclear-powered submarines
Hello All Round Look subscribers

These articles have been selected as potentially being of interest to subscribers of the Submarine Institute of Australia newsletter 'All Round Look' and, apart from any releases authored by the SIA, no new content is created in this newsletter. Inclusion of an article in this newsletter does not reflect endorsement or agreement of the content by the SIA.

Through its contract with Meltwater, the SIA is licensed and has paid for the copyright access to distribute the articles. There may still be articles where the access to the content is restricted by the publisher through a paywall.
Coras partners with Abbott to deepen nuclear submarine capability
Consultancy Australia - 29 November 2021
In readiness for the commencement of Australia's nuclear-powered submarine program, local consultancy Coras has formed a partnership with ...
AUKUS. "Taking into account the scale and significance of nuclear-powered submarine projects, understanding and managing risk and meeting

AUKUS aftermath: It's in our interests to make things right with the French
The Australian - 29 November 2021
This year marks the 80th anniversary of Australias war with France. It is largely forgotten, but the facts are simply these. Vichy France, under the leadership of Marshal Petain, was collaborationist in nature and it remained in control of Syria and ...
This year marks the 80th anniversary of Australias war with France. It is largely forgotten, but the facts are simply these. Vichy France, under the leadership of Marshal Petain, was collaborationist in nature and it remained in control of Syria and ...

Russia hopes AUKUS will abandon nuclear submarine project: Envoy in Vienna
Herald Globe - 28 November 2021
Moscow [Russia], November 27 (ANI/Sputnik): Moscow expects that Australia, the UK and the US will abandon plans to implement the project on ...
UK and the US will abandon plans to implement the project on nuclear submarines as part of the AUKUS partnership, Mikhail Ulyanov, Russia's

We're repeating all the same Collins mistakes
The Australian - 27 November 2021
The Morrison governments decision to cancel the French Attack-class project in favour of nuclear-powered submarines SSNs was clearly justified, on both strategic and operational grounds. That does not let the government off the hook, however, for the ...
The Morrison governments decision to cancel the French Attack-class project in favour of nuclear-powered submarines SSNs was clearly justified, on both strategic and operational grounds. That does not let the government off the hook, however, for the ...

Are rare earths really that rare?
The Inside Investor - 26 November 2021
How rare are rare earths?
requires about 427 kg of rare earths, and a Virginia-class nuclear submarine uses nearly 4.2 tonnes. Australia's Lynas Corporation (ASX:LYC

France and China take aim at Australia in latest AUKUS drama
The Advertiser (Licensed by Copyright Agency) - 25 November 2021
A "cheated" France has joined China in taking aim at Australia as the drama over the nuclear submarine deal with ...
in the first stage of the controversial AUKUS deal towards acquiring nuclear submarines. Mr Dutton appeared in a ceremony alongside US

AUKUS countries ink agreement to share nuclear propulsion information
Jane's 360 - 23 November 2021
Royal Australian Navy Collins-class submarines HMAS Waller and HMAS Dechaineux . Australia is planning to replace the class with a fleet of ...
Royal Australian Navy Collins-class submarines HMAS Waller and HMAS Dechaineux . Australia is planning to replace the class with a fleet of

The govt buying Australian isn't all it's made out to be
Jimboomba Times (Licensed by Copyright Agency) - 23 November 2021
To say international trade is a bad idea is to throw the baby out with the bathwater. Picture: Shutterstock It's ...
into the market ready to buy some high-quality Australian-made nuclear submarines, passenger jets and laptops, only to discover that we don'

Russian admiral: Kursk disaster caused by NATO sub
TheHour - 23 November 2021
1of5FILE - Crew members of the nuclear submarine Kursk, one of Russia's largest and most advanced submarines, stand on the ship deck during ...
catastrophe was triggered by a faulty torpedo.File/APShow MoreShow Less 3of5 4of5FILE - The Russian nuclear submarine Kursk, is shown at a

Australia, US, UK sign initial AUKUS nuclear sub deal
Asia Pacific Defence Reporter - 22 November 2021
Australia on Monday (22 November) formally signed the so-called AUKUS agreement with the United States and the United Kingdom to equip its ...
to safely and effectively build, operate and support nuclear-powered submarines. The agreement is consistent with Australia's international

Indonesian minister breaks ranks over AUKUS subs deal
The Australian - 22 November 2021
Indonesias Defence Minister has acknowledged Australias right to pursue nuclear submarine technology to protect its national interest if they feel threatened in stark contrast to the countrys foreign ministry, which has repeatedly criticised the move.
Indonesias Defence Minister has acknowledged Australias right to pursue nuclear submarine technology to protect its national interest if they feel threatened in stark contrast to the countrys foreign ministry, which has repeatedly criticised the move.

AUKUS, Australia: Peter Dutton signs deal for nuclear powered submarines
Times News Network - 22 November 2021
Australia has signed a strategic partnership with the US and UK in September In the first stage of partnership, deal has been signed to ...
,' Mr Morrison said. Two Australian Collins class submarines (front) and the UK nuclear-powered attack submarine, HMS Astute (rear) are seen

Press Conference Canberra, ACT
Prime Minister of Australia - 22 November 2021
Prime Minister: Well, good morning. I'm joined by the Minister for Home Affairs. It's good to have you here with me, Karen. I like the ...
how to safely and effectively build, operate and support nuclear-powered submarines. It will enable Australian civilian and military


Submarine Service of Robert Patrick O'Grady compiled by Peter Smith.

It is with sadness that the National Executive announce the passing away of Robert Patrick O'Grady on 30 November 2021 from a septic infection that Robert had been fighting against in Royal Prince Alfred Hospital, Sydney for the past month.
Known to his peers as Bob. He joined submarines as an Underwater Control rating in 1972, after completing his Part One and Two training at HMS Dolphin in England, he returned to Australia to join his first boat HMAS Oxley to undergo his Part Three training, after being presented his Dolphins, he remained in the boat until 1974.
Bob's next boat was the Royal Navy's HMS Odin which he joined here in Australia after leaving Oxley in 1974 as a pier head jump. He returned to Oxley in 1975 where he stayed until 1977.
After some shore time Bob joined HMAS Otway in 1978 after a short period, he left the boat in 1979 and joined HMAS Otama, again he was in the boat for a short period before leaving and joining HMAS Onslow in 1980.
In 1981 Bob had left Onslow and was posted to HMAS Ovens he stayed with that boat until 1985.
Bob Joined the Submarines Association Australia in May of 1988. By this time, he was rated as a Chief Petty Officer UCSM and was still serving in the Navy.
On a personal note, Bob, your biggest battle has beaten you it is now your time to Rest in Peace.

A Note from his brother Tex
For those that can't make my brother, Bob's service but wish to view the livestream I have posted up the website of Wray Owen funeral services, if you scroll down, you will find Bob's Service and the link to the Livestream of his service. (Fri 10th @ 1200).
Cheers & DBF, Tex
https://wrayowen.com.au/upcoming-services

Authors Note: Tex has been compromised by circumstances beyond his control, hence his absence tomorrow. If you miss the live stream, from previous experience they normally keep for a few days after and you can celebrate Bob's life after the Service. Probably a good idea for those attending, there will be an RSL component in the Service and Medals requested from Tex. The roads are wet and flooding down south so might be wise to check out alternate routes into Nowra.
Finally, I note through FB that there has been an overwhelming amount of messages posts of condolences to Gail, Tex and Lucy which is a true testament to the high regard he was held in.

Fort Blockhouse Memories

Did I miss something, scratching my head with the amount of Seniors information this fortnight. Anyway our elder statesman will always get a guernsey.


"Good friends are like quilts-they age with you, yet never lose their warmth."


I am forwarding this to those on my Seniors email list because it is so well written.

Please send back. (I did) It's neat. Don't delete this one, you'll laugh when you see the return message.
I have seen too many dear friends leave this world, too soon; before they understood the great freedom that comes with aging.




Whose business is it, if I choose to read, or play on the computer, until 4 AM, or sleep until noon? I will dance with myself to those wonderful tunes of the 50s, 60s & 70s, and if I, at the same time, wish to weep over a lost love, I will.




I will walk the beach, in a swim suit that is stretched over a bulging body, and will dive into the waves, with abandon, if I choose to, despite the pitying glances from the jet set. They, too, will get old.




I know I am sometimes forgetful. But there again, some of life is just as well forgotten. And, eventually, I remember the important things.



Sure, over the years, my heart has been broken. How can your heart not break, when you lose a loved one, or when a child suffers, or even when somebody's beloved pet gets hit by a car? But broken hearts are what give us strength, and understanding, and compassion. A heart never broken, is pristine, and sterile, and will never know the joy of being imperfect.




I am so blessed to have lived long enough to have my hair turning gray, and to have my youthful laughs be forever etched into deep grooves on my face. So many have never laughed, and so many have died before their hair could turn silver.


As you get older, it is easier to be positive. You care less about what other people think. I don't question myself anymore.
I've even earned the right to be wrong.


So, to answer your question, I like being old. It has set me free. I like the person I have become. I am not going to live forever, but while I am still here, I will not waste time lamenting what could have been, or worrying about what will be.

And I shall eat dessert every single day (if I feel like it).




MAY OUR FRIENDSHIP NEVER COME APART, ESPECIALLY WHEN IT'S STRAIGHT FROM THE HEART!


Forward this to at least 7 people, and see what happens on your screen. You will laugh your head off!
OPERATION TOUCHSTONE AND AE1 PLAQUE

Made contact with RADM Peter Briggs last week and he informed me of a communication received from the First Sea Lord RN WRT has provided a positive/supportive response for the recovery project to his RAN counterpart. Subsequently, the retired organisations in UK and AUS have been advised with no trenchant opponents emerging.
I might add that after speaking with many some still have reservations WRT the Project but when the Team release their plan all will be revealed.

Also touched on AUKUS and the word is hurry up and wait, there are so many convoluted and objective articles flying around the traps that no one really has a clue what is actually going to occur. Me personally, and looking outside the box we could still have all these mixed messages right up to the next election 2022 and a change of Government could well see the whole thing get shit tinned and will then be relegated to the Sewerage Tank in the Grot.

AE1 Plague

Ahoy Greg,
As discussed we (the Australian E Class Submarine Foundation - the successor Not For Profit company to Find AE1 Ltd) having found AE1 set about amending the commemorative plaques erected/installed by Find AE1 Ltd to tell of its being found. One of these plaques is at Garden Island in the RAN Heritage Precinct - you may very well have been at its unveiling along with the strong band of SAA NSW members?
A couple of images to remind;



The one above taken from the water shows the side where this new wee plaque will go.




This one the front being unveiled by the Governor General and the Chief of Navy.

The additional plaque is about the size of a laptop - a heavy laptop at 5kg. Image below





Job for a stone mason as follows;
1. Install the plaque provided on the AE1 Commemorative Plaque at GI RAN Heritage Precinct. - Plaque will be sent to Stonemason's yard/workshop by AESMF.
2. Access to site is controlled by HMAS Kuttabul - AESMF will arrange access.
3. Position of plaque on the existing plinth will be directed by AESMF representative at site and with a drawing.

Information provided by Capt Ken Grieg OAM RAN ret'd


Why Did the Brits Wear Red Coats?

During the recent royal wedding, millions around the world saw that Prince William chose to wear a uniform that included the famous British "red coat."

Many people asked, "Why have the British worn red coats in battle?"
A long time ago, Britain and France were at war.
During one battle, the French captured a British Colonel. They took him to their headquarters and the French General began to question him.
Finally, as an afterthought, the French General asked.
"Why do you British officers all wear red coats? Don't you know the red material makes you easier targets?"

In his casual, matter-of-fact way, the officer informed the General that the reason British officers wear red coats is so that if they are wounded, the blood won't show and the men they are leading won't panic.




And that is why, from that day forward,

ALL THE FRENCH ARMY OFFICERS WEAR BROWN TROUSERS
DVA MATTERS

We are pretty thin on top with this as Ray Kemp is winding back a tad and Mick Wood standing down as ACT TPI Association. Prompted me to make contact with Liz Cossans AM,CSC DVA Secretary and request releases from the new Minister which I believe are out almost daily. Should have resolve by our Christmas Edition.


Another from Peter Smith
The Colonoscopy Song
FROM THE RECTORY

Bishop Keith (Frank) Dalby is taking advantage of restrictions being lifted and is playing a significant amount of catch up within his Murray Diocese. Will hassle him for his Christmas Message over the next week or so and promulgate. Frank is always a phone call away for those in need of support. He is a great listener and offers solace and advice when requested.

Subject: Letters to God from Dogs


Dear God: Is it on purpose that our
Names are spelled the same, only in reverse?



Dear God: Why do humans smell the flowers,
But seldom, if ever, smell one another?



Dear God: When we get to Heaven, can we sit
On your couch? Or will it be the same old story?



Dear God: Why are there cars named after
The jaguar, the cougar, the mustang,
The colt, the stingray, and the rabbit, but not ONE
Named for a Dog? How often do you
See a cougar riding around? We love a nice car
Ride! Would it be so hard to rename
The 'Chrysler Eagle' the 'Chrysler Beagle'?



Dear God: If a Dog barks his head off
In the forest and no human hears him,
Is he still a bad Dog?



Dear God: We Dogs can understand human
Verbal instructions, hand signals, whistles,
Horns, clickers, beepers, scent IDs,
Electromagnetic energy fields, and Frisbee
Flight paths. What do humans understand?



Dear God: Are there mailmen in Heaven?
If there are, will I have to apologize?



P.S. Dear God:
When I get to Heaven,
may I have my testicles back?
SICK PARADE

Bob Trotter - as discussed with him two weeks ago is slowly on the mend and his two recreational passions are fair way off.
Ray Kemp – no new update on his leg but believe still giving him a fair bit of curry.
Darren Thompson – Definitely on the mend with many submission for the Grot, Coxswains Store and Sewerage Tank.
Dinga Bell – posted a significant amount of photies on FB and his leg issue is not going away
Benny Hill and Ian Prodger – Only what I have heard from Dave Strangward and Mick Carew that Benny is on the mend after his op and posting a fair contribution on FB and Prodge is making contact with Mick but know updates on his medical status. Anyone else you know of that is doing it tough, flick me an email and will promulgate. Most of us warm to a phone call or email when issues occur but many are very proud and do not want to burden people with their problems.
Probably another timely reminder to our Welfare Officers Elect in each State to extract the finger and make contact with these guys and girls and see how they are and let us know.

Covid: Interesting article on the trigger for rare blood clots with AstraZeneca jab found by scientists - BBC News https://www.bbc.com/news/health-59418123.amp




CHRISTMAS FUNCTION NATIONALLY
QLD

Another great Christmas lunch hosted by the Patron on the Brisbane River


NSW

SAA NSW Christmas get together at Gosford Rsl. Great night had. Everyone was good because they got to sit on Santa's knee.

VIC
SAA (Vic.) Lunch
SA
No Report as yet.
WA

WA Branch Christmas Party. Wonderful turnout on a great Summer's day.
A donated model of Ovens was raffled and won by Louise Baker.






NT –

Its Christmas every day in Darwin for Glen (Cuss) Hall who is probably the only serving Submariner in NT.
AROUND THE TRAPS

There are many who don't give a toss about what the Author (ME) points out (more like STF up 6 and give us something) but what a great Association we have. On getting a call for help from the Western Port Harbor Master last week requesting information on The Rigging Warrant for Otama with a view to move her. Specifically Towing Pennant and Bottle Screw slip. Of cause I said yep sure mate I will pluck it out my arse. Bugger me one phone call to Dave Strangward another to Mick Carew (both in Canberra) and then onto Morrie Jepperson in Holebrook found what I was looking for. Screwie found Otama archives dated back to Scotland and took them to Holebrook for the Museum. Morrie has reduced said documents pertaining to the external fittings and will forward to the Harbor Master. Anyone out there who actually knows where Otama's Rigging Warrant is would also be helpful. The Second Coxswain would normally be present when the cable was brought back on board and Bottle Screw and Towing Pennant were certified and fixed into position. The Navigator was then handed the rigging warrant and was held in the draw under the chart table. Guess Max Bryant probably has it now if it wasn't removed by Squadron.

Morrie was the PO Writer at Plats for years and loved and still does Submariners. Old Liz Buddick the CPO WTR use to say no to everyone but Morrie was always in the background pointing at you saying come here and Ill fix it. He is still doing it now. BZ Mate.

John Goss a Milestone
On 26 November Commander John Goss, AM, RAN, retired after an extraordinary 57 years in the Royal Australian Navy. Commander Goss joined as a Junior Recruit and ended his service as the Manager of the Museum of HMAS Cerberus in Victoria.
Commander Goss spent his last day in uniform unveiling a new plaque commemorating almost a century of Chef training at HMAS Cerberus.
Recognising extraordinary service





---
From the FHSM
CHRISTMAS IS GETTING CLOSER !!
STILL WONDERING WHAT TO GET FOR THAT SPECIAL PERSON???

WEVE GOT YOU COVERED.
CHECK OUT THE SPECIALS AND NEW ITEMS AS WELL AS THE UPCOMING PUBLICATIONS.

Time is running out but we can still take your orders so don't delay

You can order online using the form at:
Books & Publications Shop – HOLBROOK SUBMARINE MUSEUM

We hope you have a great Christmas and new year.

Don't forget to drop into the museum if your heading that way and see all the changes that have been made.

Thor Lund
Hon. Sec. FHSM
---
From SAANSW President through Carol Wilson
You may remember I sent a link to 'Last Post Ceremony', Australian War Memorial a couple of weeks ago re: History will be made on Friday 19 November 2021 when the 80 year old mystery of the identity of the HMAS Sydney (II) "unknown sailor" is resolved.

The body of the "Unknown Sailor" was the only one recovered from Sydney after it was sunk off the West Australian coast with the loss of 645 lives in 1941.
Geoff has sent me this link as a follow up to that. A very detailed and interesting Article to read. Thanks Geoff.

https://mcusercontent.com/3e19c984dacdeec89bf60df0d/files/1022d4d6-2120-9715-556b-2e3981a473c4/2021_11_november2021broadside.pdf

Maxine on Seniors..😁


Senior citizens are constantly being criticized for every conceivable deficiency of the modern world, real or imaginary. We know we take responsibility for all we have done and do not try to blame others.

HOWEVER, upon reflection, we would like to point out that it was NOT senior citizens who took:

The melody out of music,

The pride out of appearance,

The courtesy out of driving,

The romance out of love,

The commitment out of marriage,

The responsibility out of parenthood,

The togetherness out of the family,

The learning out of education

The nativity scene out of cities,

The civility out of behavior,

The refinement out of language,

The dedication out of employment,

The prudence out of spending,

The ambition out of achievement or

God out of government and school.



And we certainly are NOT the ones who eliminated patience and tolerance from Personal relationships and interactions with Others!
And, we DO understand the meaning of Patriotism, and remember those who have fought and died for our country.




YES, I'M A SENIOR CITIZEN!

I'm the life of the party.....Even if it only lasts until 8 p.m.
I'm very good at opening childproof caps.....
With a hammer.

I'm awake many hours before
My body allows me to get up.


I'm smiling all the time,
Because I can't hear a thing you're saying.
I'm sure everything I can't find is
In a safe secure place, somewhere.
I'm wrinkled, saggy, lumpy,
And that's just my left leg.
I'm beginning to realize that aging is not for wimps.


Yes, I'm a SENIOR CITIZEN and I think I am having the time of my life! Now if I could only remember who sent this to me, I wouldn't send it back to them.
Or, maybe I should send it to all my friends anyway.
They won't remember, even if they did send it.

Spread the laughter Share the cheer
Let's be happy
While we're here.


https://www.9news.com.au/national/dine-discover-vouchers-nsw-residents-to-be-given-two-new-25-vouchers-how-to-get-them/1c751a71-6cdc-4de9-9b29-763926df60c5



Port Phillip Papers and Down Under have been released and all good reading and on their respective websites.

Iconic Australian inventions
We take a look back at the inventions invented by Aussies.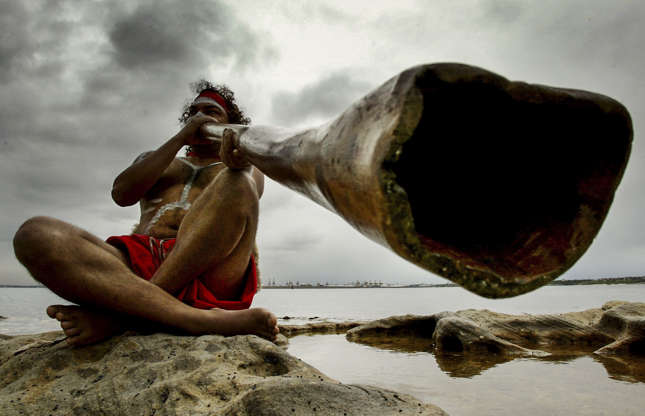 Didgeridoo
The didgeridoo can arguably be classified as the first Australian invention, and is still prominently used today.
The wind instrument was developed by Indigenous Australians around 1000 to 1500 years ago. Playing the didgeridoo involves a complex breathing technique called circular breathing - breathing through the nose and breathing out of the mouth at the same time.
Traditionally, only males and can play the didgeridoo during ceremonial events.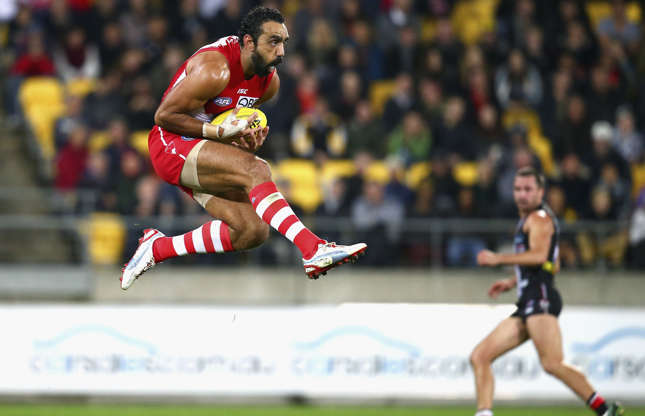 Australian Rules Football (1858)
An iconic Australian sport, Aussie Rules has been played since June 1858 and was originally established as a means to keep cricketers fit during the winter.
In 2002, the Australian Football International Cup began with the tournament being held every three years. Australia, however, cannot participate.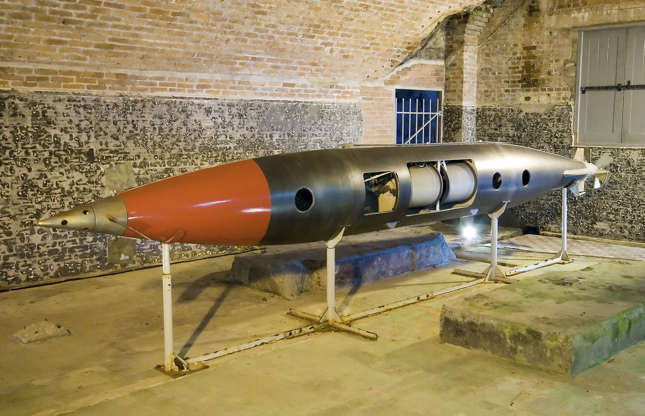 Brennan Torpedo (1874)
Invented by Louis Brennan in 1874 and patented in 1877, the Brennan Torpedo was propelled by two rotating propellers that were spun by rapidly pulling out wires from drums wound inside.
It is often claimed as the world's first guided missile.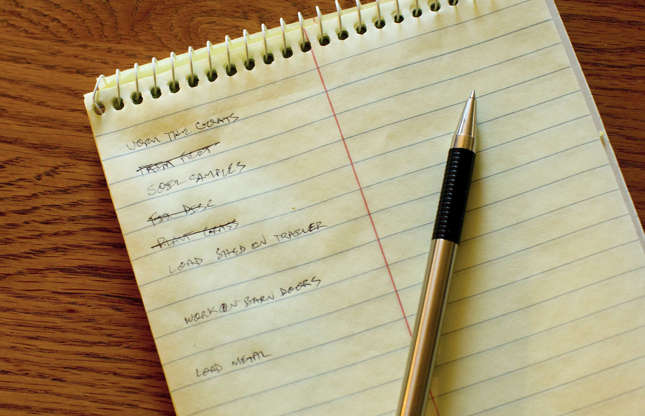 Notepad (1902)
Tasmanian J.A. Birchall was the first person to bind loose sheets of paper together and sold them as the first notepad.
Birchall's innovation involved cutting sheets in half, backing them with cardboard and gluing them together at the top.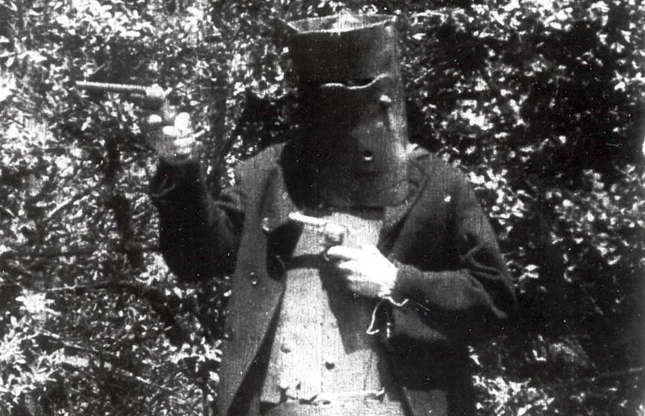 Feature Film (1906)
Heralded as the world's first full-length feature film, 'The Story of the Kelly Gang' traces the life of bushranger Ned Kelly.
Written and directed by Charles Tait, the film ran for more than an hour, which was the longest time that a film had run during this era.
The movie premiered in Melbourne on December 26, 1906.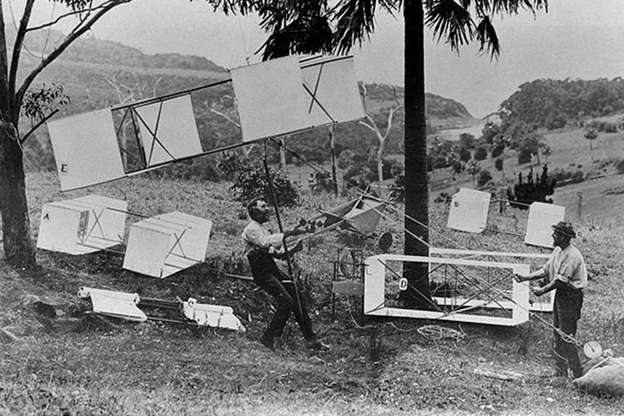 The Box Kite (1893)
The box kite was developed by Irish-born Australian Lawrence Hargrave in 1893, which aided greatly in the development of powered-flight.
On November 12, 1894, Hargrave was able to lift himself 16 feet off the ground after tying four box kites together.
Hargrave was given a place in Australia history after he was engraved on the 20-dollar note from 1966 to 1994.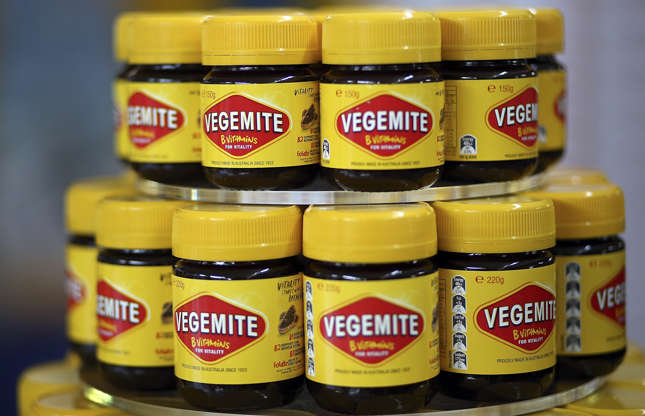 Vegemite (1922)
When one thinks of Australia, one turns to our national spread.
Made from yeast extract, Vegemite has been causing rosy cheeks since 1922.
In 1928, Vegemite changed its name to Parwill to compete with Marmite. The slogan went: "If Ma mite then Pa will". It changed the name back to Vegemite in 1935.
It was the first product to be scanned at checkout in 1984.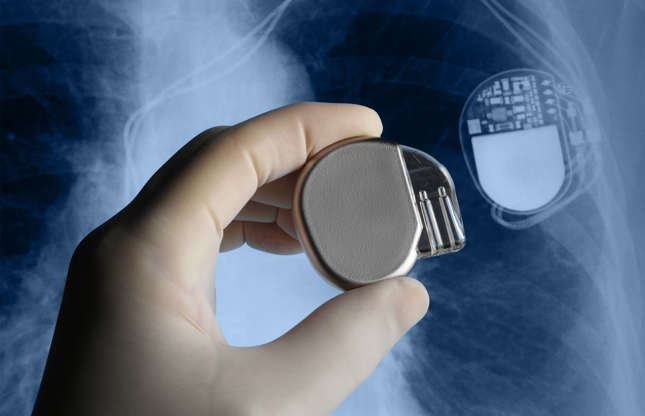 Electronic Pacemaker (1928)
The Electronic Pacemaker was developed by Dr Mark Lidwill and Edgar H Booth in 1926.
The original device plugged into a 'lightning point' and an insulated needled was plunged into the heart.
The device was used in 1928 to revive a stillborn baby in Sydney.
The pacemaker was used a launching pad for insertable and modern pacemakers.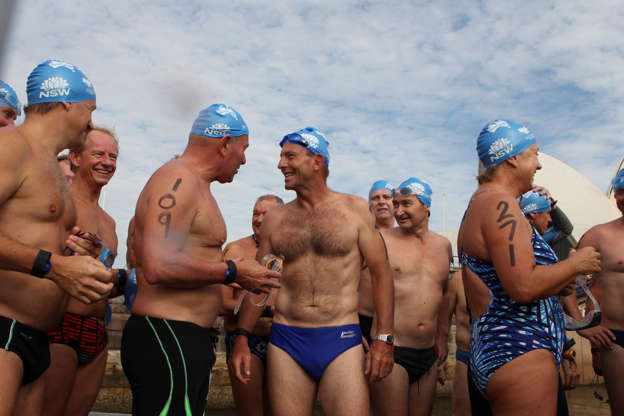 Speedo swim brief (1929)
The Speedo swim brief (also known as the budgie smuggler, banana hammock and togs) made its debut in 1929 and is still covering the privates of male beachgoers to this day.
It is also the swimwear of choice of ex- Australian Prime Minister Tony Abbott (pictured).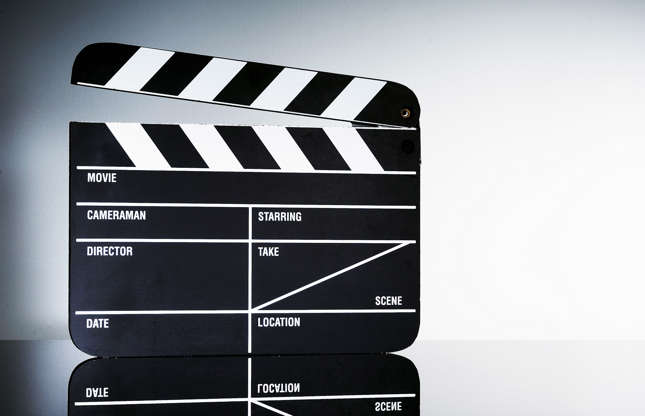 Clapperboard (1930)
The clapperboard was invented by F. W. Thring in Melbourne, Australia.
The original design of the clapper involved two sticks hinged together.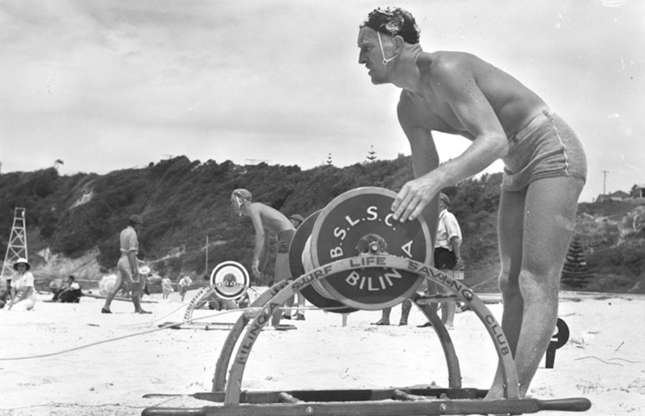 Surf-life saving reels (1906)
Lester Ormsby is credited as the inventor of the surf life-saving reel which was demonstrated at Bondi Beach on December 23, 1906.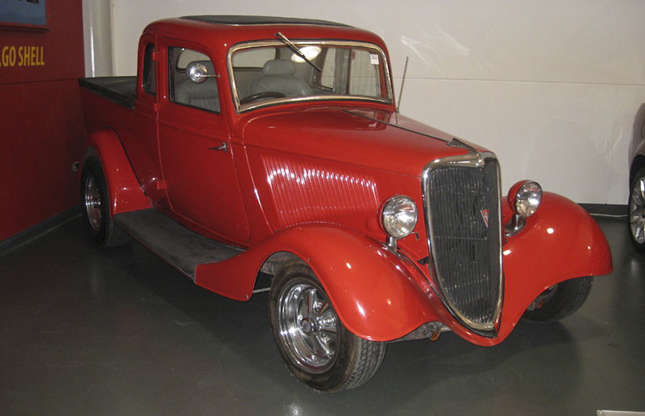 The Ute (1934)
The Coupé utility vehicle - commonly known the 'The Ute' was designed by Lewis Brandt of the Ford Motor Company in Geelong.
The idea for the Ute came from a farmer's wife who wanted a vehicle that could take her 'to take her 'to church on Sundays and pigs to market on Mondays'.
The first Ute rolled off the production line in 1934.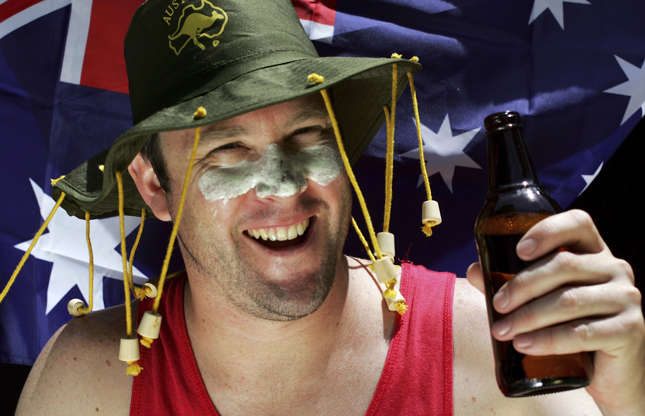 Zinc Cream (1940)
Nothing screams Aussie more than zinc cream plastered across your nose.
The sunscreen, which contains zinc oxide, was developed by Fauldings pharmaceutical company in 1940.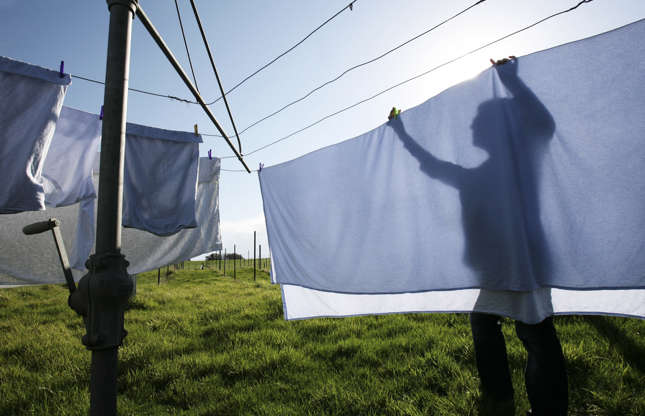 Hills Hoist (1945)
Manufactured in Adelaide by Lance Hill in 1945, the Hill Hoist is a common sight in most Australian backyards.
The idea for the original design arose from Hill's wife wanting an inexpensive replacement to line she had been using to dry her clothes.
The hoist can also be used to as rotating monkey bars and can be used to play 'Goon of Fortune'.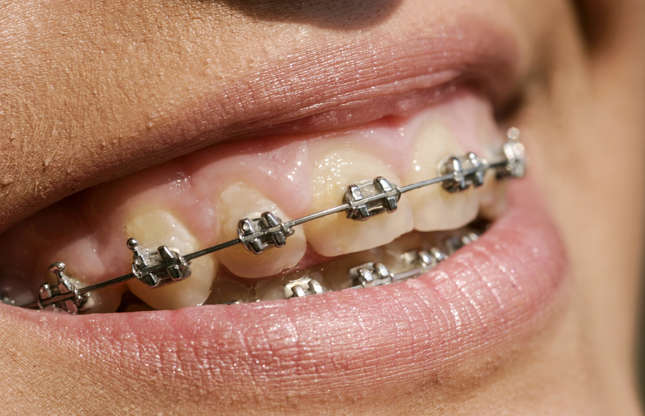 Stainless steel braces (1956)
Western Australian orthodontist Percy Begg started devising a new technique for repositioning teeth in the 1940s.
When his use of stainless steel was introduced in 1956, he became an international sensation as the use of light wire eliminated the need for head gear.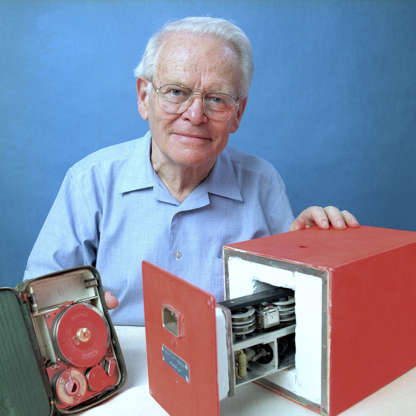 Black box flight recorder (1958)
The 'black box' flight recorder was invented by Dr David Warren in Melbourne.
It was used to capture a plane's readings and to record crew members' conversations to determine what issues a plane ran into in the event of a crash.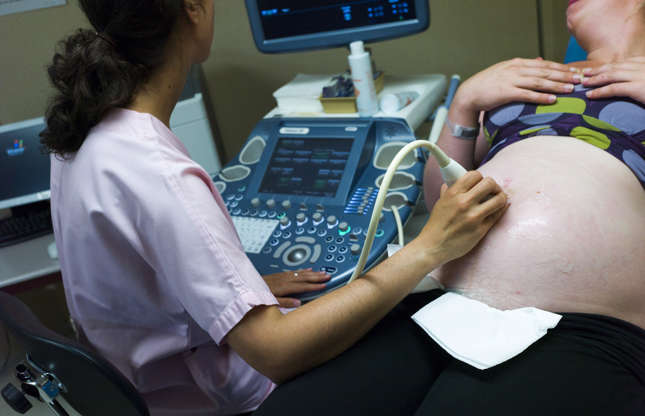 Ultrasound (1961)
The work of Australian Department of Health researchers David Robinson and George Kossoff has been credited with the development of the first ultrasound in 1961.
The first images of an unborn child were seen in 1962 at the Royal Hospital for Women.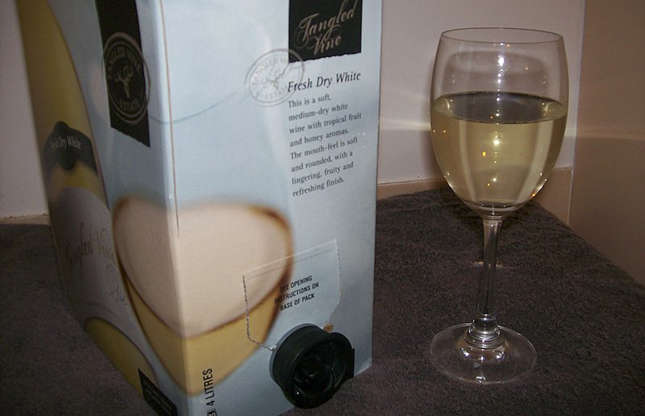 Boxed wine (1965)
The epitome of Australian classiness, boxed wine, also known as goon, was invented by Thomas Angove in 1965.
While it was less expensive and more environmentally friendly than it's bottled-cousin, boxed wine has been criticised for its cheapness and a means for alcoholics to get drunk on a budget.
In certain circumstances, the goon bag can also be used as a temporary substitute to a pillow.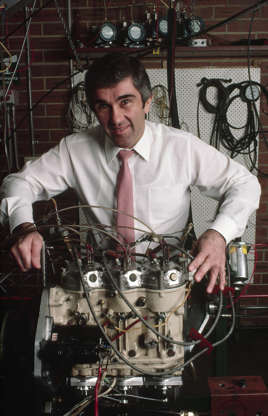 Sarich Orbital engine (1972)
The Sarich Orbital engine is an internal combustion engine that had no high-speed contact with engine walls.
The engine never made it into production as it was prone to overheating, however the processes developed for the engine can be seen in other orbital engines.
It was created by Ralph Sarich in 1972.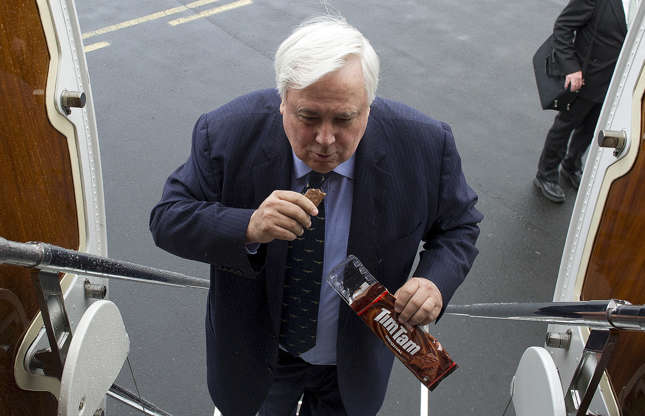 Tim Tam (1964)
Created by Ian Norris, the Tim Tam was first introduced on February 16, 1964.
The name for chocolate biscuit was the work of Ross Arnott, who decided the name of the 1958 Kentucky Derby winner would be a good name for a biscuit line.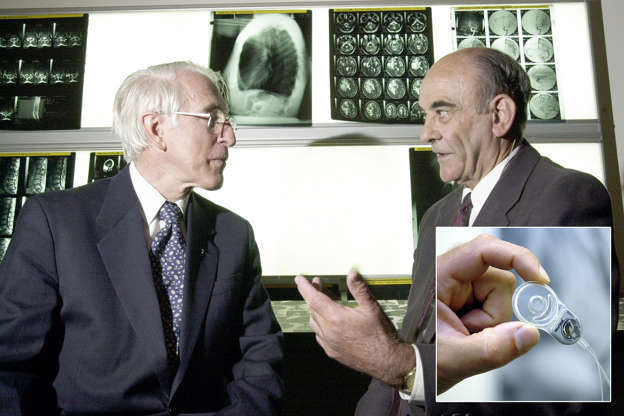 Cochlear implant (1978)
Dr Graeme Clark helped research and developed a means for deaf individuals to hear after the invention of the Cochlear implant, also known as the bionic ear.
The first bionic ear recipient was Rod Saunders who lost his hearing at the age of 46.
In 2008, Clark announced that he was developing a "hi fi" implant that would help users perceive music and different voices in noisy rooms.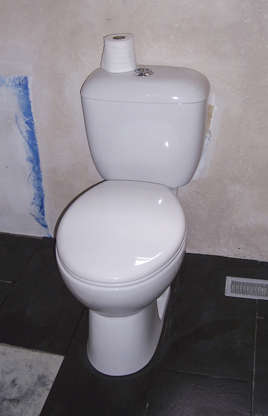 Dual flush toilet (1980)
Bruce Thompson can be thanked for combining two of Australians favourite things - using the dunny and saving money.
The invention of the dual flush toilet system has been estimated to save households 320,000 litres of water every year.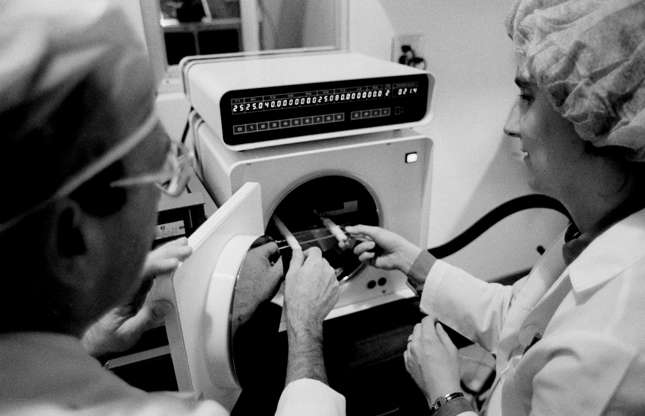 IVF Embryo freezing (1983)
Researchers from Monash University and the Royal Women's Hospital in Melbourne perfected the 'freeze-thaw' in-vitro fertilisation technique in 1983, which allowed the freezing of an embryo, thawing it and implant it.
The first frozen embryo baby was born in Melbourne on March 28, 1984.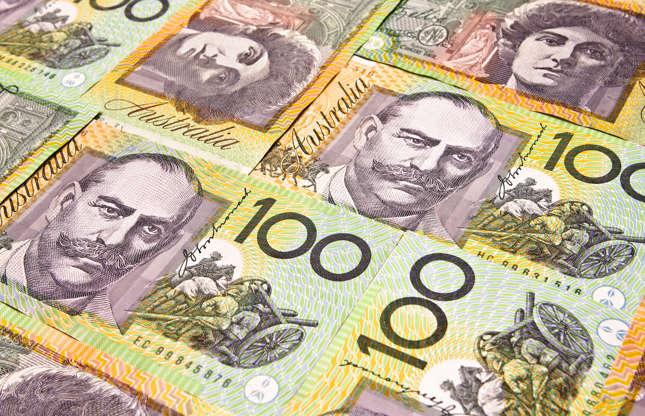 Polymer banknote (1988)
The Polymer banknote was developed as a joint venture between the Reserve Bank of Australia, CSIRO and the University of Melbourne as a means of preventing forgery.
Australia fully switched over from paper currency in 1996.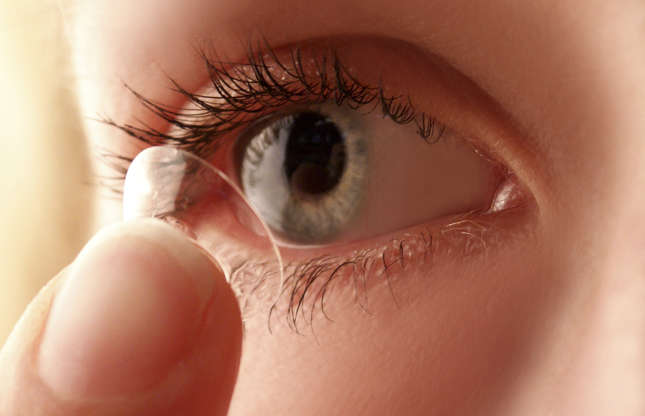 Multi-focal contact lens (1992)
The multi-focal contact lens was invented by Queensland optical scientist Stephen Newman.
This particular type of contact lens work in the same way at bifocal glasses, which helps people focus on multiple distances through the same lens.




Editors Note: Whilst on the surface this is a dumb reason, the actual password would take 100's of months to crack through brute force (testing every character against it to work out what the password is) so it is actually a secure method of creating a password.
Also if you want to make your password a LOT harder to crack, add in a comma somewhere in the middle. It screws with the spreadsheets criminals use to store userids and passwords.
FUNNIES

Looking back on some of Bob Hope's memorable contributions…
On his deathbed they asked him where he wanted to be buried...
Bob Hope replied: "Surprise me.…"
I

I HOPE THIS WILL PUT A SMILE ON YOUR FACE AND IN YOUR HEART. This is a tribute to a man who DID make a difference…
ON TURNING 70 - "I still chase women, but only downhill."
ON TURNING 80 - "That's the time of your life when even your birthday suit needs pressing."
ON TURNING 90 - "You know you are getting old when the candles cost more than the cake."
ON TURNING 100 - " I don't feel old. In fact, I don't feel anything until noon. Then it's time for my nap."
ON GIVING UP HIS EARLY CAREER (BOXING) - "I ruined my hands in the ring. The referee kept stepping on them."
ON GOLF - "Golf is my profession. Show business is just to pay the green fees."
ON PRESIDENTS - "I have performed for 12 presidents but entertained only six."
ON WHY HE CHOOSE SHOWBIZ FOR HIS CAREER - "When I was born, the doctor said to my mother, congratulations, you have an eight pound ham."
ON RECEIVING THE CONGRESSIONAL GOLD MEDAL - "I feel very humble, but I think I have the strength of character to fight it."
ON HIS FAMILY'S EARLY POVERTY - "Four of us slept in the one bed. When it got cold, mother threw on another brother."
ON HIS SIX BROTHERS - "That's how I learned to dance. Waiting for the bathroom."
ON HIS EARLY FAILURES - "I would not have had anything to eat if it wasn't for the stuff the audience threw at me."
ON GOING TO HEAVEN
– "I have done benefits for ALL religions. I would hate to blow the hereafter on a technicality."
Dear Lord - Please give me a sense of humor,
give me the grace to see a joke,
to get some humor out of life,
and pass it on to other folk.
To the person receiving this, please have the grace to pass it on to others.
Learn from yesterday, live for today, keep one hand on your wallet and don't worry about tomorrow..

Wraps it up for this fortnight and keep your Christmas Submissions coming to make next edition something special. Truckloads of informative and amusing information in the Coxswains Store and Sewerage Tank and if by chance the Author and Editor missed something kindly remind me and shall rectify.


and Finally - Billy Connolly -
What's one word you never want to hear from your submarine Captain? -
"Oops".
For vital underwater accident prevention info watch my video!

Shut and Clipped for this week



Yours Aye

Greg Jones #6
coxswain@submarinesaustralia.com
0432 559 283