DINO-MITE DEMOCRACY

It's election season at MUSSA!, so of course we had to theme the MUSEletter accordingly. Participating in student council is a great way to get involved in life at the iSchool and in the Museum Studies program, and to make sure your voice is heard.

You can develop new skills in event planning, budgeting, advocacy, committee work, liaising with the faculty, collaboration, and more! It is also an excellent opportunity to make connections with your peers, faculty members, future leaders in the industry, and current industry professionals.

If you aren't interested in running for a council position, we still encourage you to vote for your fellow students!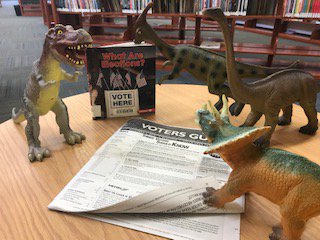 Photo Credit: Houston Library, Twitter, Nov. 2, 2019
ALL CANDIDATES MEETING

Nominations for the Master of Museum Studies Student Association (MUSSA) Fall Elections are now open! A reminder, anyone considering on running must attend our All Candidates Meeting tonight! Details are as follows:
All Candidates Meeting will be held at 6:00pm - 7:00pm EST
Monday, September 19, 2022
If you cannot attend this session because of work, class, etc., please email us at mussa.ischool@gmail.com. At the meeting we will discuss the election process and positions in more detail. Attending this meeting does not obligate you to nominate yourself, so you are free to attend the meeting even if you're just interested in learning more.

You can attend the Zoom meeting here!
NOMINATE YOURSELF FOR A POSITION!

Available to 1st year MMST and 1st/2nd year CDP students only:
Secretary

Treasurer

Social Assistant

Social Media Assistant

First-Year Representative

First-Year Tech Fund Representative

Musings Communication Officer
Available to any year CDP students only:
Available to any MMST or CDP student:
Alumni Association Representative

Indigenous Action and Anti-Colonialism Committee Representative
CONSTITUTIONAL UPDATES
Thank you to all who attended MUSSA's Annual General Meeting last week. For those who missed it, we voted on changes to the Constitution, Financial Policies, and reviewed the Financial Summary. Here is where to access them:

Financial Policies (as of September 2022)
Financial Summary (as of April 2022)
RETURNING STUDENT SURVEY
We want to hear from
YOU
. What events would you like to see? What works and doesn't work with your schedule. MUSSA strives to create open and inclusive events ranging from professional advancement to pub nights!
Survey closes
September 21 at 11:59pm.
POST ORIENTATION SURVEY
If you attended or were interested in attending an orientation event run by MUSSA within the last three weeks, we want to hear from you! Let us know what you liked, what you didn't and what we should consider changing next time. Your feedback will help us to tailor upcoming events and will help shape orientation events run by MUSSA in the future.
This feedback form is
specific to orientation events organised by MUSSA.
Survey closes
September 30th
at
11:59pm
.
MUSINGS WRITER CALL

Musings is looking for NEW staff writers for their Fall Edition!

If you are an MMSt or CDP student, faculty member, or alumni and would like to submit an article, please email us at musings.mmst@gmail.com to fill out an application. Please note that articles should be between 300-500 words with images, links, and videos (if relevant).

If you have any questions, comments, or concerns about any of the content published on Musings, please send us an email at musings.mmst@gmail.com.

The application deadline is September 26th, 2022
iJOURNAL
Calling all current MMSt and CDP students! The Faculty of Information's student journal,
the iJournal
, is recruiting. We showcase exemplary academic works written by undergraduate and graduate iSchool students each semester. Our team of volunteers works together to review, edit, publish, and promote these works.
For example, see our Winter 2022 issue here!
Students from all concentrations are welcome and experience is not required! We have available positions that provide experience in project management, editing, social media outreach, and graphic design.
Please complete the following form to apply!
https://forms.gle/f2P4V2EJTvA9c48h9
Questions? Contact
lucas.luoma@mail.utoronto.ca
Applications will be accepted until 23:59 on
Sunday, October 2nd, 2022.
If you are currently completing your projects and have any information for MUSSA to add or update on the webpage, or specific announcements you would like us to share in the MUSEletter, please reach out!
VISIT THE MUSEUM OF COPY/PASTED IDENTITIES
The McLuhan Centre for Culture and Technology's Artist in Residence Program is delighted to announce Francisco González-Rosas' onsite exhibition, the museum of the copy/pasted identities, is open!
​González-Rosas' work is a mesmerizing amalgamation of research on colonialism's history and its legacies within self-archeology and identity. Using their body as subject, Gonzalez-Rosas operates with different media to integrate a digital narrative into the material physical space of the Centre's Coach House.
The exhibit will run from
September 14th to October 15th, 2022.
AN EXHIBITION ON THE EARLY MODERN PRINTED PAGE


Typographia dives into six glyphs found in the Rare Book Collection of the Centre for Renaissance and Reformation Studies. The exhibition is a two-headed launch with an online version and a physical one, which opened to the public on Sept. 9th in the Reading Room of the E. J. Pratt Library.

The exhibition runs until October 7th, 2022.